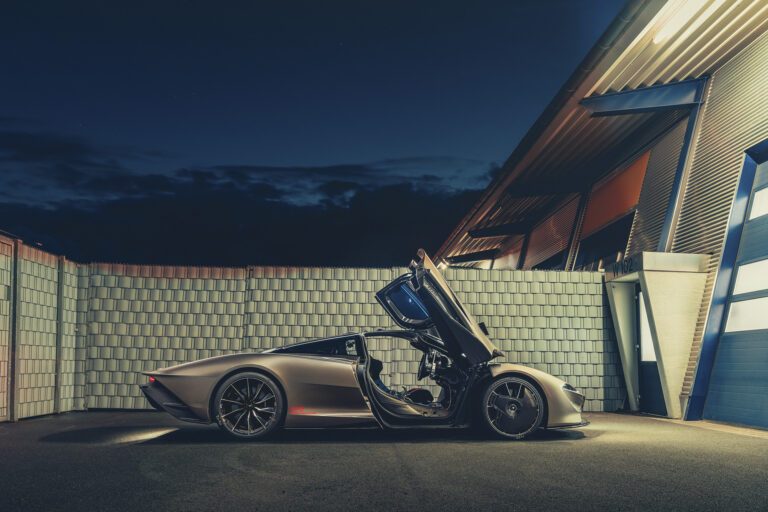 Like no other
Innovation by design
McLaren Speedtail
4.0-litre V8 with 1,070 horsepower
Most aerodynamic car ever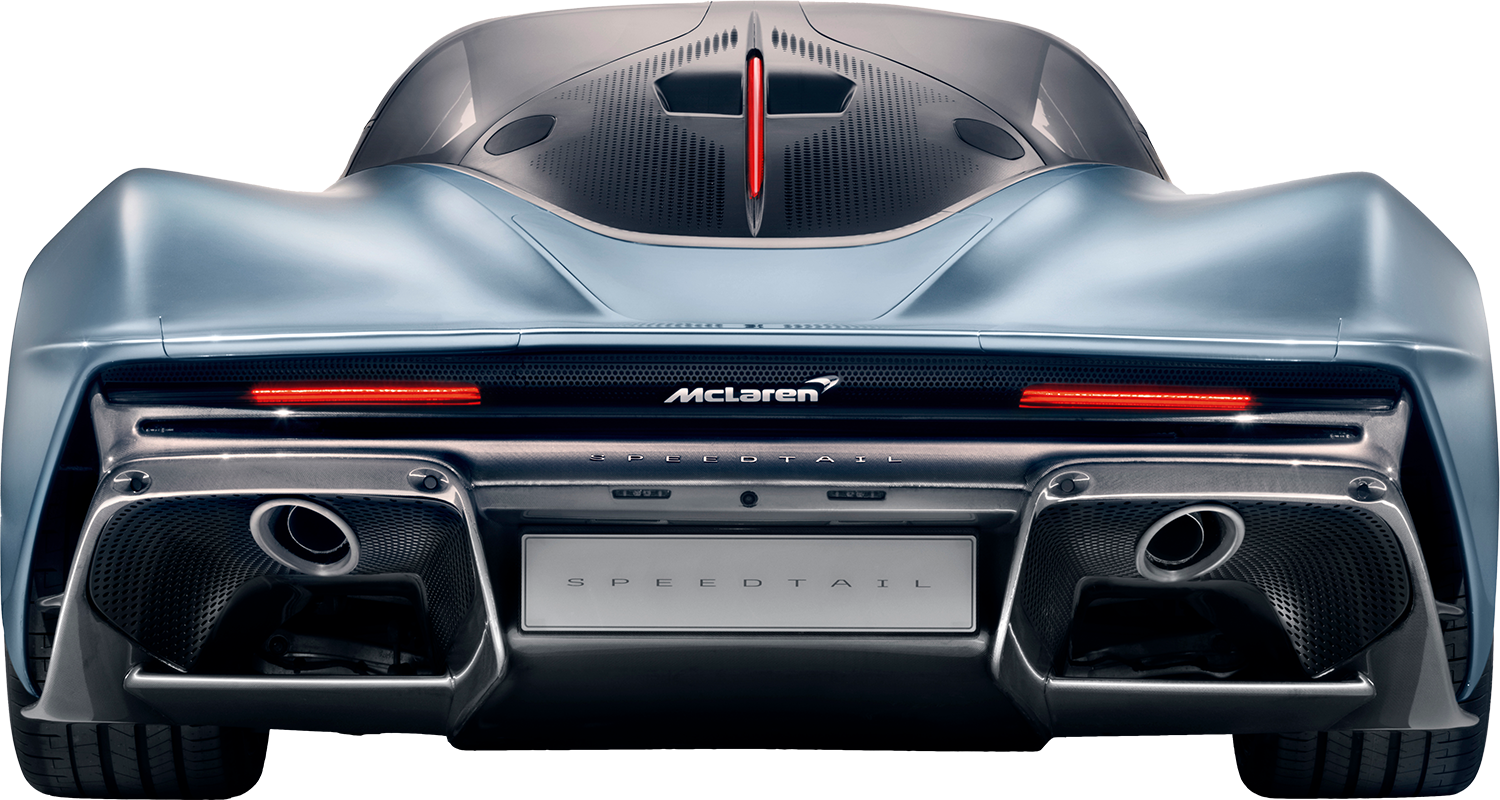 A drive
like no other
Can you fuse art and science in the automotive world? Certainly, just look at the McLaren Speedtail. The Speedtail is the brand's very first hyper-GT and is also the most aerodynamically efficient car ever. And at 1070 bhp, it's the fastest in the family. The sublime mix of innovation and elegance offers owners that exceptional experience.
Download wallpaper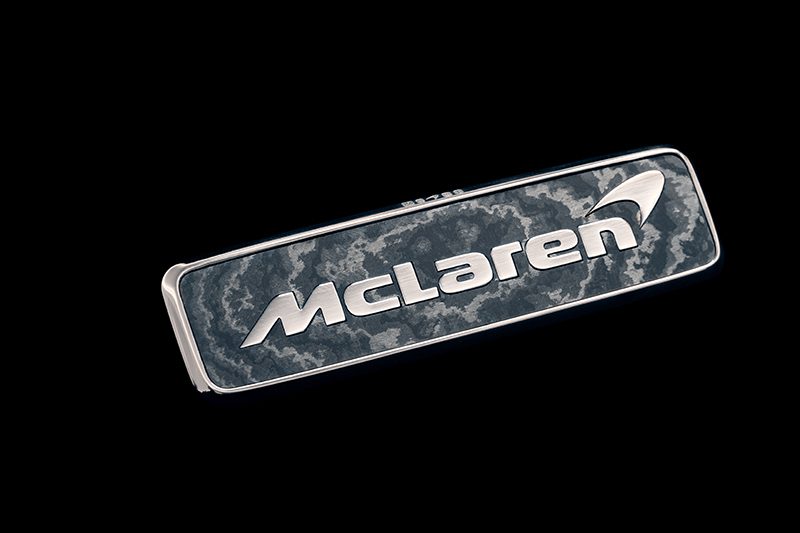 Engine
The beating heart
of the Speedtail
The petrol-electric powertrain offers staggering performance and ensures that every Speedtail drive is an unforgettable experience. And with 1070 bhp you reach 300 km/h in just 12.8 seconds. Imagine how that feels! That's actually the fastest acceleration ever delivered by a McLaren. Keep giving gas and you'll reach a top speed of no less than 403 km/h. And all that is delivered by the 4.0-litre twin turbo V8.
Engine
4.0-liter Twin-Turbochargers V8
Technics
Unthinkable
solutions
Aerodynamics are vital in the automotive industry. But in the development of the McLaren Speedtail, it's used in its purest form. Every element is sculpted to channel air over, under and around the body. At first sight, the design seems to be about aesthetics, but with the Speedtail, everything is about speed. If you look down on the car from above you can see that characteristic teardrop shape, almost the same as you see with fish and birds that move at high speed. This design enables uninterrupted airflow along and around the car and turbulence is minimised. They've thought of simply everything. Down to the last millimetre.
Wind
Almost turbelent free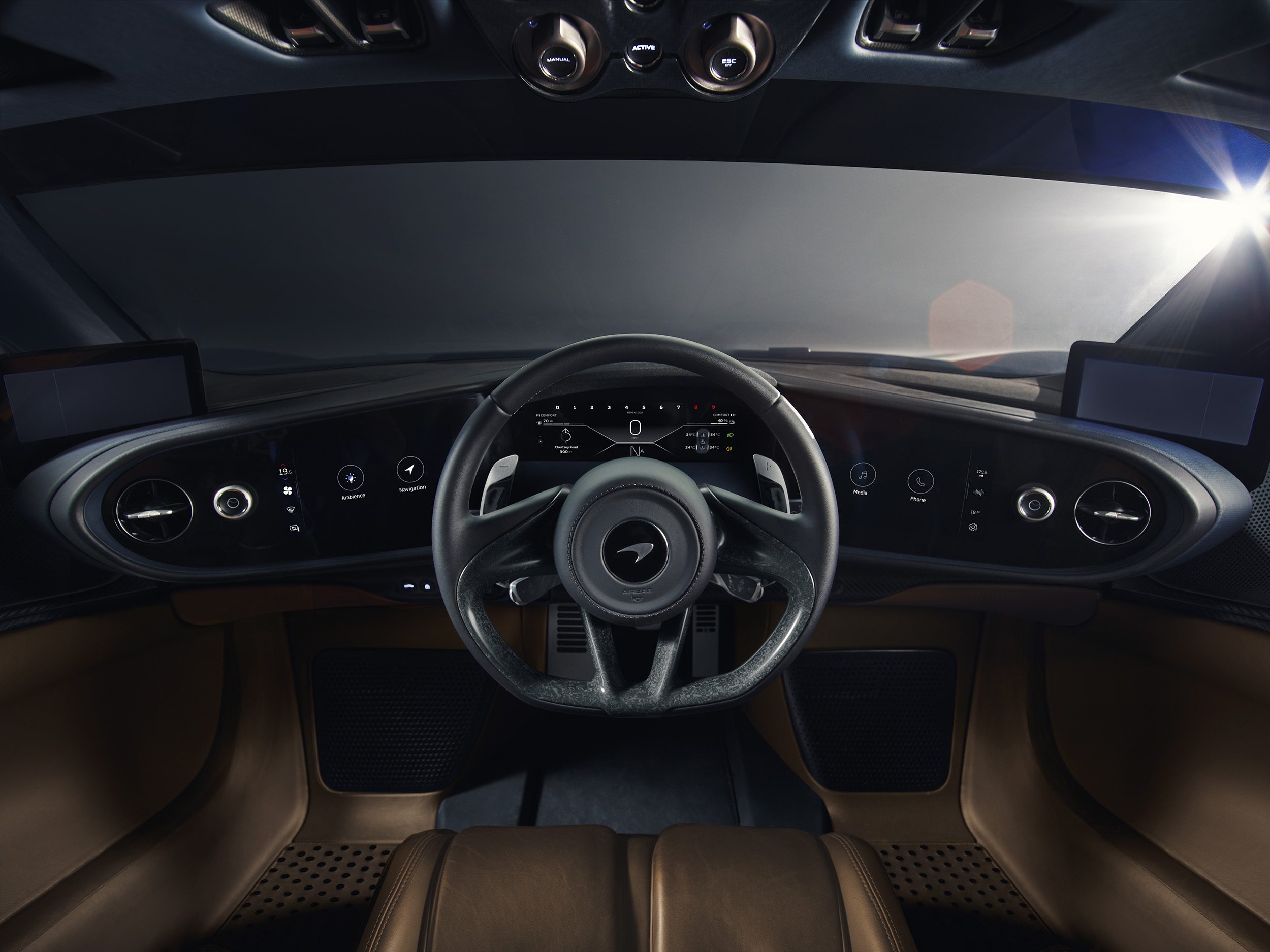 Interior
A stunning
vision
The central driver seat is the first thing you notice in the Speedtail. As driver, you're in the centre of the car and you can still take two passengers with you. Road visibility is unobstructed and all control elements are mounted to the roof console.
Enhance your
driving experience
The side airbags are covered in Alcantara, but the rest of the interior upholstery has been removed, saving yet more weight. Everything for enhanced performance.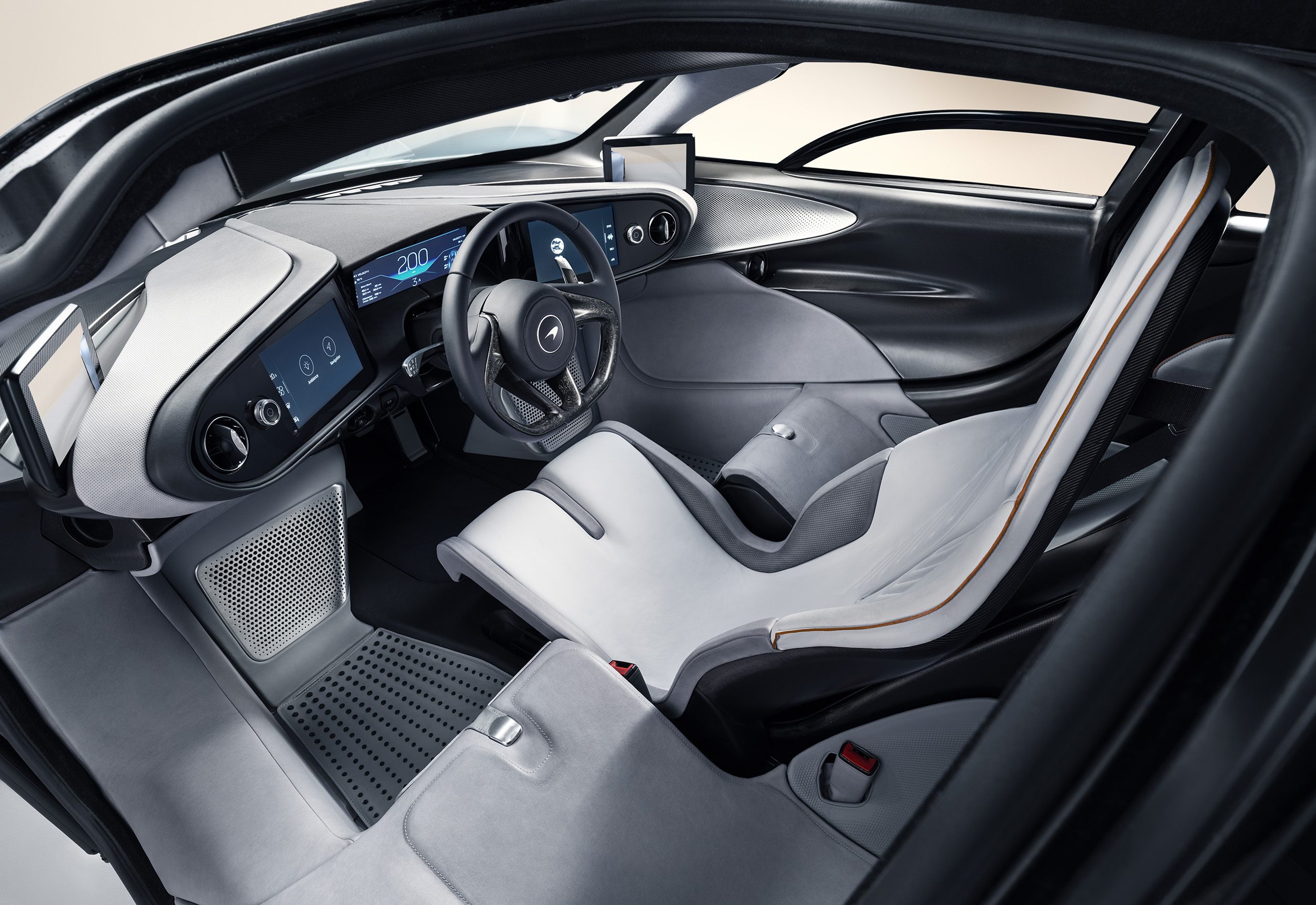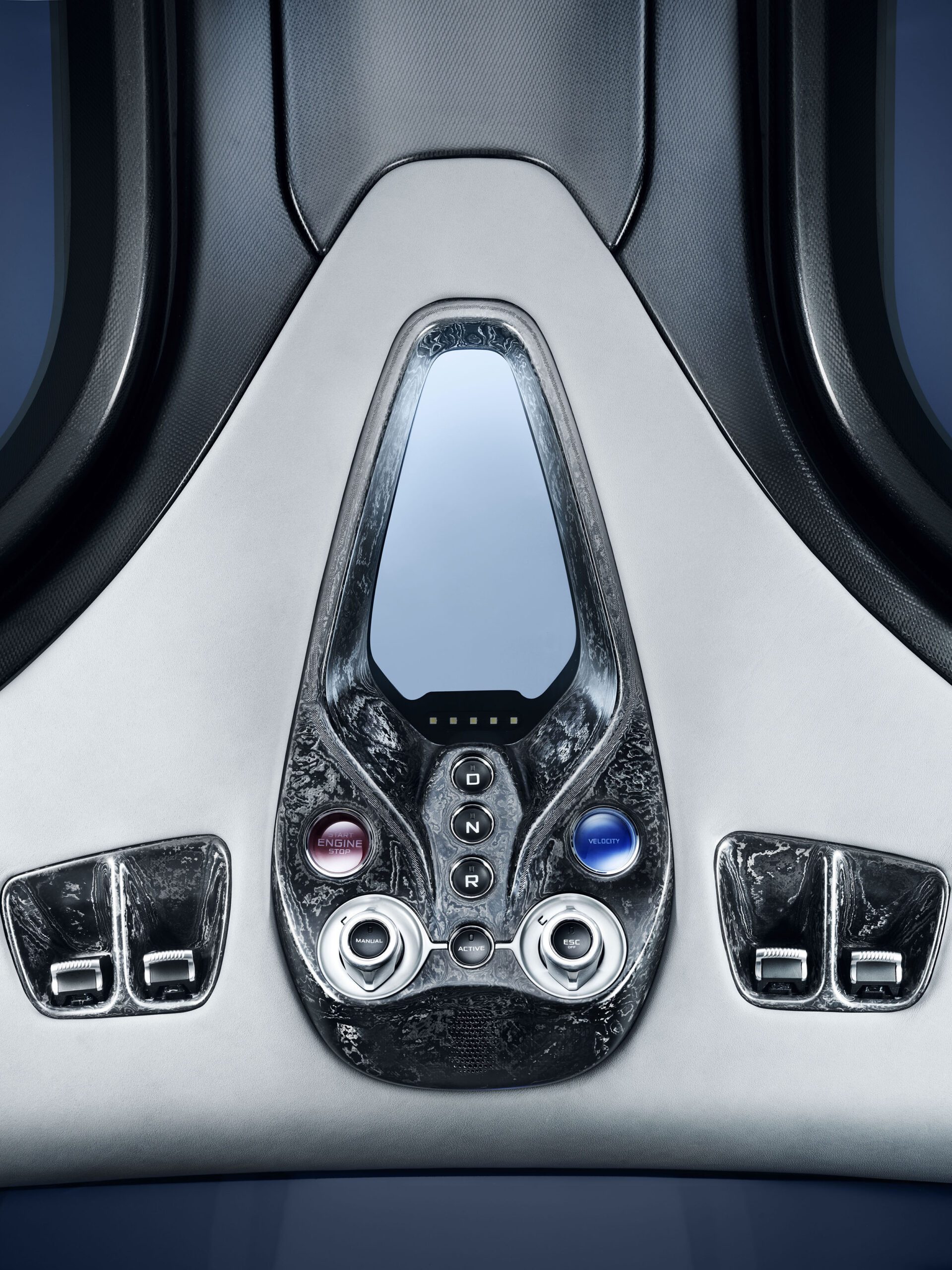 What to expect when choosing McLaren?
At Louwman Exclusive we don't only sell the most stunning McLarens… we also ensure that they leave our workshop in tip-top condition. As official McLaren Automotive partner, our professionals follow all the official brand training courses and work exclusively with original factory parts, ensuring that you enjoy your McLaren in the utmost safety.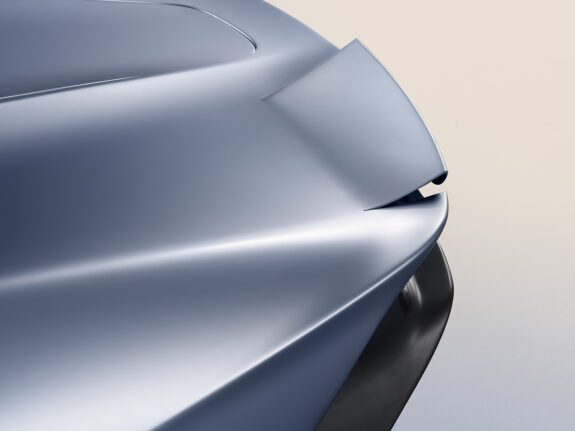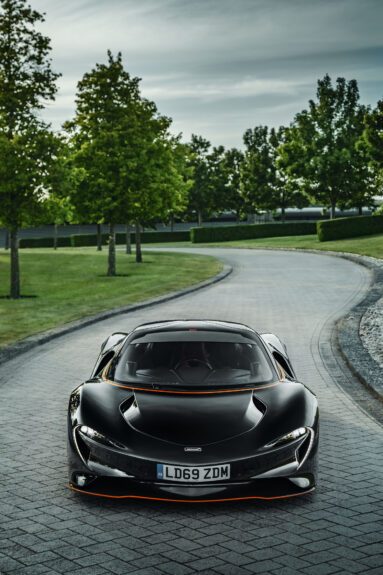 Maintained by certified technicians
Training and knowledge from the manufacturer
Member of our INVITED Community
Benefit from great gifts and events
Member of the McLaren Owners' Club
Includes awesome track days with other McLaren Owners
Special care by our specialists
Whether you want to take a test drive or need answers to any questions, our professionals will be delighted to help you.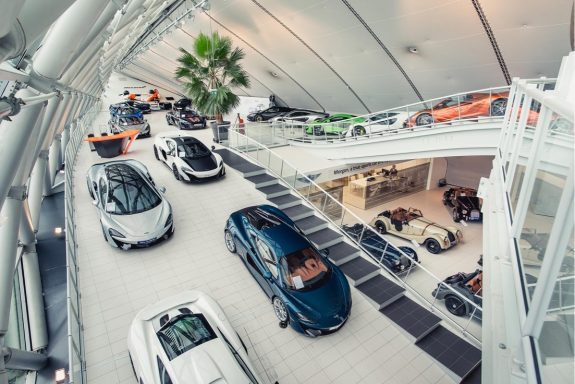 Louwman Exclusive
CONTACT
+31 (0) 30 221 21 21
info@louwmanexclusive.nl